Welcome to
the world of Groot & Groot
peonies
A new innovative generation of peony flower and peony root producers, bringing you only the very best.
What makes us unique
Groot & Groot Peonies is a Dutch family business, peonies are our passion. We grow, process and directly sell peony flowers and roots of the highest quality. The vast majority of our peonies are grown on our own farms in The Netherlands, Italy, France and South-Africa. That way we can deliver you the best fresh peonies directly from our production fields in relatively large quantities.
Fresh peonies all-year round
We are able to supply fresh peonies all year round.
Top quality
We focus on high quality products in workable quantities.
Global operations
With farms in The Netherlands, the south of France, Italy and Africa.
World-wide delivery
We deliver our flowers and roots in over 25 countries.
Exclusivity
We have exclusive rights in many varieties and offer them exclusively.
Download our brochures
Please leave your contact information so we can send you our brochure.
Download brochure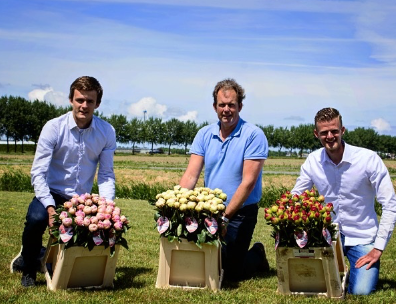 Are you interested in our products? Feel free to contact us!
Ask free quote
Where and how to buy
There's a difference in logistics between buying fresh peonies and peony roots.
Please make a selection with the button below.
Fresh peonies
Peony roots
Export
Please feel free to contact us so that we can come up with the best solution.
Webshop
Our stock in Aalsmeer is directly linked to the Starflor webshop. Our flowers are available and ready for shipping 24/7.
Direct
Direct purchasing is always possible, please contact our sales department directly
Auction
Our flowers are available at the Aalsmeer, Rijnsburg and Naaldwijk locations.
We supply the following markets with our peony roots:
Cut flower projects
We can deliver high quality roots in large quantities for your cut flower peony projects.
Pot growers
We can supply multiple peony varieties that are perfectly suitable for pot cultivation.
Collectors & Gardeners
We offer multiple exclusive varieties that are wanted amongst collectors and gardeners.
Landscaping
We can supply a wide range of varieties that are suitable for all kinds of landscaping projects.
Contact us
Our sales department is happy to inform
you about our possibilities and services.
Ask free quote